The BPL Podcast features concise, informative discussions with educators, writers, and community figures from Bexley and beyond. Tackling a range of topics from horror films to Ohio's opioid epidemic, we capture conversations that are sometimes funny, sometimes poignant, but always human.
Episodes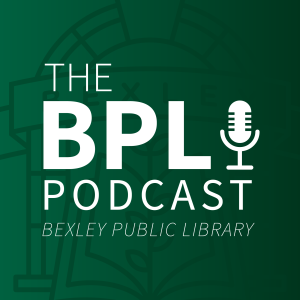 Friday Oct 21, 2022
Friday Oct 21, 2022
Vampire Week is here! Plucked from our blog, Julianna tells us about her favorite vampire movies and everything the library has to offer this week.
Julianna mentions some of her favorite vampire movies. Here's a list of them: 
Interview with the Vampire

Vampire Hunter D: Bloodlust

The Lost Boys

A Girl Walks Home Alone at Night

Nosferatu

Only Lovers Left Alive

Let the Right One In

Hotel Transylvania

Bram Stoker's Dracula

Let the Right One In
Special thanks to fo/mo/deep for lending us their song, "Bourbon Neat" for the podcast!
Find out about upcoming Bexley Public Library events at BexleyLibrary.org
Follow Bexley Public Library across social media platforms @bexleylibrary