The BPL Podcast features concise, informative discussions with educators, writers, and community figures from Bexley and beyond. Tackling a range of topics from horror films to Ohio's opioid epidemic, we capture conversations that are sometimes funny, sometimes poignant, but always human.
Episodes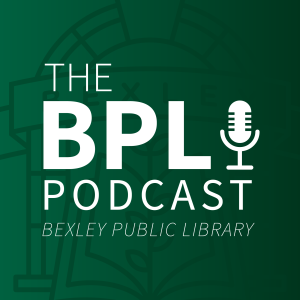 Saturday Jun 18, 2022
Saturday Jun 18, 2022
Jack Marchbanks sits down with Dionne Custer Edwards, Scott Woods, and Is Said for a discussion about Black poetry using James Weldon Johnson's groundbreaking anthology The Book of American Negro Poetry as a springboard.
Dionne Custer Edwards is a writer, educator, and the Director of Learning & Public Practice at the Wexner Center for the Arts, Scott Woods is a poet, writer, and the founder and director of the performing arts organization Streetlight Guild, and Columbus poetry legend Is Said, has received the King Arts Complex Legends & Legacies Award and was inducted into the Lincoln Theater Hall of Fame. 
This program is generously funded by Jack Marchbanks and The Kridler Family Fund at The Columbus Foundation.
Special thanks to fo/mo/deep for lending us their song, "Bourbon Neat" for the podcast!
Find out about upcoming Bexley Public Library events at https://www.bexleylibrary.org
Follow Bexley Public Library across platforms @bexleylibrary