The BPL Podcast features concise, informative discussions with educators, writers, and community figures from Bexley and beyond. Tackling a range of topics from horror films to Ohio's opioid epidemic, we capture conversations that are sometimes funny, sometimes poignant, but always human.
Episodes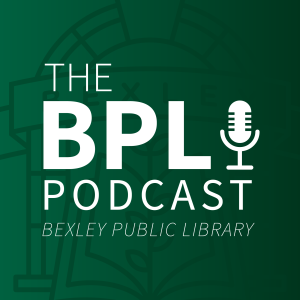 Thursday Oct 13, 2022
Thursday Oct 13, 2022
Owen dives into the history of banning books, reasons books are challenged, and he even recommends his favorite challenged title. Here is a list of all the books Owen mentions:
Uncle Tom's Cabin

by Harriet Beecher Stowe

Adventures of Huckleberry Finn

by Mark Twain

To Kill a Mockingbird

by Harper Lee

The Grapes of Wrath

by John Steinbeck

The Great Gatsby

by F. Scott Fitzgerald

The Catcher in the Rye

by J. D. Salinger

The Kite Runner

by Khaled Hosseini

Looking for Alaska

by John Green

Persepolis

by Marjane Satrapi
Special thanks to fo/mo/deep for lending us their song, "Bourbon Neat" for the podcast!
Find out about upcoming Bexley Public Library events at BexleyLibrary.org
Follow Bexley Public Library across social media platforms @bexleylibrary